June 23rd, 2012
It's 22 days until my kids start camp.
God so help me, I cannot wait.
I love my kids. If that isn't patently absolutely divinely CLEAR by now then you just don't know me well at all. I have sacrificed many many things for my children, some of which they will never know. But such is the nature of parenthood…
But still.
I need some me time. Some time to think, some time to just BE. I look forward to the days when I can drop them off at camp and come home to a house filled with silence. Where I can sit and read in peace. Go to the bathroom and not inevitably hear a little knock on the door. (I have told them A MILLION TIMES…when I am IN THE BATHROOM, whether in the SHOWER or on the LOO, do NOT BOTHER ME UNLESS IT IS AN EMERGENCY. Apparently, telling me that the mail has arrived is an emergency. As is wanting to show me a picture, telling me something funny that just happened on TV, and asking for juice. These are all EMERGENCIES, people. CODE FUCKING RED.)
I don't fool myself for one minute that I will not miss them. Last year when they went to camp it was the oddest mixture of being thrilled at having time for me and being impatient to pick them up at the end of the day, make sure they were stil alive and happy, seeing their little beaming faces and hearing their chatter. I missed it.
But I know that as much as I will miss it, I do need some me time.
There are things I want to do during that time "off". There are loads of projects around the house to tackle. There is writing to be done. But…I need to make sure that every day I also fit in something that is purely and completely ME. Whether it is seeing a friend for lunch, or getting a pedicure or a massage, or just taking a luxurious bath – Jesus, I can't even REMEMBER the last time I took a nice bubble bath. There has to be some ME stuff in there, EVERY DAY. EVERY SINGLE DAY. Because I need it desperately, I need to take care of ME and nurture ME and strengthen ME. My spirit, my heart, my soul, they all need…care. They need self-care, attention, and boosting. They need to be revitalized and rejuvenated.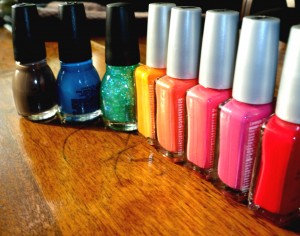 I think not only will that be good for ME, but of course for the kids and the hubby too. When I am a little more balanced, I will hopefully be less irritable.
22 days until Project Me. At that point, the kids are in camp for 3 weeks, so I get a good 15 days to soothe my soul. It's weird…I'm excited but also…nervous! It's like I'm going out on a first date with myself. Isn't that sad? But that's exactly how I feel, as though I am embarking on some big major project that could FAIL. How the fuck did I become so removed from MYSELF?
Which makes me realize that rather than just leaving those days to chance and then not making things happen, I should set up appointments. Make dates to see local friends if possible. Schedule those pedicures and massages. Make lunch dates with myself and a good book or my computer. Just make sure that I make the best of the time that will be available by having at least a loose plan, so that I don't get to the end of 15 days having done nothing.
22 days until 15 days of me.
Related articles