June 30th, 2012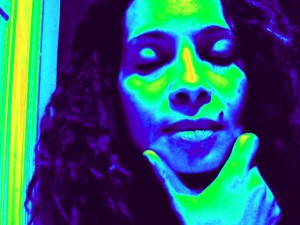 Tonight…
Tonight is tough.
By all rights, I should feel happy.
I'm on new meds.
Today was a relatively good day.
But I was texting with another dear friend of mine who is also severely depressed, and we were talking about how bad depression is for friendships because you just go INTO yourself and just…disappear.
And then by the time you get your proverbial shit together…those people who were your friends have moved on. You're not on their radar anymore and when you try to get back on…it's really really hard.
And in talking about it, I really faced the fact that I have sort of lived in a shell for the last 8 years. When I first had Punksin, I was so focused on being a mom, and also focused on slowly releasing the stress that my job had given me, that I just didn't go out at all. I just wanted to be Stay-at-Home Mom. And that's what I did for 2 years.
Then I started writing again, bit by bit. But I still wasn't really going out much. And then I got pregnant with Pudding. And again, I stopped writing. I can't say I stopped going out because…I hadn't really started back.
Fast forward to today and…I homeschool my kids. But they get out. They do stuff. I keep them busy with outside activities so that they can make friends and see other kids and have fun and stay busy.
But I don't really do that for MYSELF.
The worst part of it is that…I do try, now, to get out more. Because everyone TELLS me, "You need to get out more. Enjoy yourself! Go out with your friends!"
But whenever I try now, no one seems available. When you fall of the face of the Earth for that long, people just…move on. And I know in many cases they don't understand WHY I fell off the face of the Earth. I would tell them…if I could see them…
This week, I told one friend about a party happening that I was contemplating going to. Then today I texted two more girlfriends to ask them what they were doing tomorrow night.
No one responded. 🙁 So I can guess that they are all…too busy doing things with the people they keep in constant contact with to be bothered with someone they hardly hear from.
But I'm trying. I'm really really trying.
And it's not working.
And I'm just getting depressed all over again.
Which then makes it far easier to just…disappear again. Although, I can't really disappear AGAIN, when I haven't been successful in REappearing in the first place.
The Tech Guru asked me if I want to go back out to work. And the truth is, I don't. I love what I do. But the writing life is already very insular, and you pair that up with depression, and it…well, it's just NOT a good combination.
Right now, I don't know what to do. I just feel as though I have people who are friends, but in a very removed sort of way. They'd show up at my funeral if I died, maybe, but if we're just talking going out for drinks then they'll catch me another time.
Except another time never comes.
And sometimes that's MY fault – a lot of the time that's my fault – because when the time comes, I'm depressed. So I cancel. And I guess people get tired of it and move on. Because most of my "friends" don't even know that I've been diagnosed with depression, that I'm on medication for depression, was in therapy, still NEED therapy, have seriously contemplated ending my life, and am still fighting what really sometimes feels like a losing battle.
This is why I want to do a Facebook purge, which I wrote about in another post I haven't even published yet. I mean, really…who are these people I call friends, people with whom I can interact virtually but cannot see in person, cannot communicate my disease to, cannot get answers from when I text… Fuck, right about now I'd be GRATEFUL if another blogger sent me pictures of his genitals. At least someone would be remotely pretending to give a fuck about my existence, acknowledging that I am out here.
I'm not mad at anyone except, maybe, myself? Because really, who else is there to blame? And life goes on and the world goes around and around and if one person disappears, whether temporarily or forever…the world still turns.
Related articles
3 Responses to "Another Casualty of Depression: My Social Life"