December 31st, 2011
We just had a lovely dinner – linguine with smoked salmon, peas and dill in a cream sauce. Cooked by…moi.
I love to cook, but every now and then I go through phases where I just get BORED with cooking food. I've been in a rather LONG one of those phases…ha ha.
But tonight's dinner was lovely (despite Pudding's declaration that "I'm NOT eating your food!") and it was light enough and it's early enough, that there will still be room enough for dessert.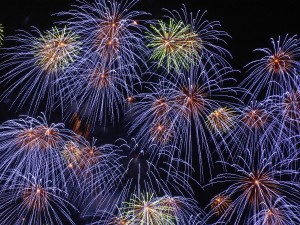 Tonight, we're staying home. Long ago, we grew annoyed with the whole idea of going out and paying oodles of dollars for the privilege of kissing each other at midnight in the midst of a whole bunch of other people. It's MUCH more fun to kiss each other at home naked in front of the fireplace, with a few extra hundred in our bank accounts. We watch the ball on TV, we toast with champagne, and then we talk about our goals for the year to come and what we've accomplished in the year we've just left behind.
I remember the year we were waiting for Punksin to arrive…my stomach was out to there and we were so excited at the prospect of being parents!
I remember the year that we HAD Punksin…reaching the end of that year, we were awed at our biggest accomplishment yet – becoming parents to this incredibly awesome little girl who had changed our lives forever.
I remember the year we were waiting for Pudding. I wasn't that big yet, and we were planning our last trip as a threesome, heading to Jamaica in February…
And then of course that New Year's Eve, in 2007, I looked down at this 5-month old little boy who absolutely took my breath away with his perfect features, his round head and deliciously chubby arms and legs.
I remember years before we got married…the best year was the year we got The Matrix on DVD! We were curled up under blankets on the couch, stark naked, watching that movie OVER AND OVER AND OVER. That is one of my FAVORITEST MOVIES EVER.
Tonight, Punksin wants to stay up. Haven't decided yet if we're going to allow her. Part of me wants her to, but part of me wants to preserve the ritual we have of greeting the New Year together, just the two of us, talking about all the things we've learned and accomplished, and what steps we need to take to get to the next destination on our journey together, as well as the things we each want to accomplish separately. Like getting to the entrance of an amusement park, this night, the last night of the year, always feels full of hope and promise as we wonder what adventures lie ahead, what ups and downs we'll encounter, and what mountains we'll finally conquer.
2011 wasn't a bad year by far, but I look forward to 2012. May it be full of wonderful things…for all of us.