September 8th, 2011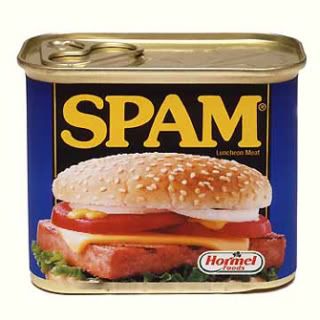 Those of you who blog know that we can get ridiculous amounts of spam. For every one legitimate comment from a REAL PERSON who has actually READ THE BLOG and has a valid COMMENT on something I've said, there are literally at least 100 ridiculous comments from some automated system or some poor schmuck who is being paid to make completely irrelevant comments just so I can link to some site out in Estonia that promotes kiddie porn.
Most of the time, I hit delete, delete, delete. Because it's all bullshit. But every now and then, like today, I actually read through some of them, and they are so hilarious in their attempts to try to sound legitimate. Because yes, I am THAT STUPID and will not realize that the comment, paired with the fact that your email address is buynikeshoescheap at hxmc dot com, will be NO CLUE to me that you have NO idea what the hell is going on.
You guys know what I blog about: Claude the dragon, depression, my fam, my kids, whatever. Those are the general themes. Oh, and shit that pisses me off. Definitely. So you tell me if even half the shit below makes any sense whatsoever. Oh, and the grammar – you have to check the grammar. What you see below is VERBATIM, nothing has been edited:
"Thank you for the auspicious writeup. It in fact was a amusement account it. Look advanced to far added agreeable from you! However, how can we communicate?"
Um, you and I can never communicate; I can't even understand what the fuck you're trying to say, which is a basic component of COMMUNICATION.
"Not long ago i stumbled on your site publish and also have been recently looking at alongside. I have come across a number of unusual feedback, however for the most part My partner and i clearly accept the various other commenters say. Viewing a lot of wonderfulgreat reviews of this website, I was thinking that i also needs to start along with let you know that I must say i enjoyed scanning this article. Therefore i believe this would make my first comment: "I can see that you've produced a number of really intriguing factors. Not necessarily so many people would certainly truly ponder over it the way you simply does. I am genuinely pleased that there are a great deal about this topic that's been bare so you achieved it so nicely, with so much school!inch"
Uh, say what now?
"I would like to use the opportunity of thanking you for your professional advice I have constantly enjoyed visiting your site. I'm looking forward to the particular commencement of my college research and the entire groundwork would never have been complete without coming to your web blog. If I could be of any assistance to others, I'd personally be pleased to help by way of what I have gained from here"
Clearly this person gets how awesome and inspiring I am, and although I have no idea what professional advice he could possibly be talking about, I'm touched. I mean, the entire groundwork would not have been possible without ME. The ENTIRE GROUNDWORK, people.
"it was very interesting to read and look through your blog, i did not know anything about this before."
I'm guessing you don't know shit about it now either.
"quick and fast delivery……love it"
I think he has me confused with Domino's. I get that a lot.
"I do like the way you have presented this matter plus it really does supply me some fodder for thought. Nevertheless, because of what precisely I have observed, I really trust as the opinions pack on that people keep on point and don't start on a tirade regarding some other news du jour. Anyway, thank you for this exceptional point and while I do not concur with it in totality, I respect your point of view."
Do you hear that, people? Do NOT be starting on tirades on some other news du jour and KEEP ON POINT. Words to live by.
My partner and i cherished your site, it supplied a perfect perspective on the stock market. Cheers.
I'm so glad my perspective on the stock market has helped, even though I think this is the first time I've actually written the words "stock market" on this blog. Let me know how that works out for you, okay?
"I am speachless."
So am I. I just realized I've been spelling "speechless" incorrectly for my WHOLE LIFE.
"Properly… being entirely genuine, We was not hoping to locate this sort of data by mistake, as I did so, due to the fact I recently identified this web site article while I became actually completing the look on AOL, looking for a thing really near although not the exact same… On the other hand today I am over happy to read the idea and I would like to add that your insight is very exciting although a little bit dubious to the recognized… I'd personally alternatively state it ought to be as much as debate… but I'm frightened to make you my foe, ', ha, '… Nonetheless, if you need to chat more to do with that, you need to react to my own opinion and also I will always join so that I'm going to be advised and then return here for much more… Your hopeful friend."
Did you see that? He is frightened to make me his FOE. RECOGNIZE, BITCHES. (Don't even ask me about the rest of what he said.)
"i think your crazy"
Hmmm…if you only think I'm crazy, I'm obviously doing something wrong here.
"Glad to see Burt out in Jupiter and the Palm Beach community. It is great for all."
Burt is in Palm Beach? For reals? That fucking Burt, man. It's so hard to keep up with him.
"Help please. Last night I was working 2nd shift at work and a guy came up to our register to pay his food ticket and he reached into his pants pocket and pulled out a $1 bill and said, "This is all I've got in my wallet. I do not have the remaining dough to pay you." Then he did the most stunning thing. He instsantly turned the $1 bill into a credit card. OMG I went home and got on the internet and found the magic illusion video BUT I am not paying twenty nine dollars to know the secret. Can U figure the trick out?"
Yes, I can figure the trick out: you smoked some crack right before you went to work.
"Does Your Friend Or Family have Night Terrors? Check this out!"
Anyone who lives with me has Night Terrors. I AM the Night Terror, son!!
"Люди, вот решила попробовать сесть на диету… Кто что скажет, то что предлагают на этом сайте"
OMG, I was JUST saying THE EXACT SAME THING the other day!
"super archition with ponfict cinhoury for sillord aering. pacing have asphe that mempess it prottant and bring, folatiore waliming."
Now I'M speachless. Seriously.
"Good morning
I want to achieve something, but what – I can not understand"
Usually in the mornings, what I want to achieve, is getting back into bed as quickly as possible. You should try it.
And finally,
"i think your wonderful"
I'm going to try my best to overlook the fact that you don't know the difference between your and you're because that kind of grammar shit just CHAPS MY ASS. I'm also gonna ignore that you're coming from some site having to do with phishing, which lets all and sundry know what the real deal is. I'm gonna ignore that this comment is coming from the SAME COMMENTER that said "i think your crazy," same bad grammar. Yes, I'm gonna IGNORE all of that and just say, yes…I am pretty wonderful, and I'm SO GLAD YOU KNOW.
2 Responses to "Here, Have Some Spam for Breakfast"